How Data Visualisation Will Unlock Your Business Potential 
Using the power of data visualisation and infographics, decision-makers are able to grasp shifts in customer behaviours and market conditions across multiple data sets much more quickly. To become a key business weapon, your data must be gathered, organised, made interpretable, analysed and acted on to provide any meaningful value.
The amount of data being created each year continues to grow exponentially. According to Cisco, annual global IP traffic will pass the zettabyte (1000 exabytes) threshold by the end of 2016, and will reach 2 zettabytes per year by 2019.
(Source)
. But, for all the data that's being created by people, machines, internet-enabled devices and other sources, data doesn't provide decision-makers with valuable insights on its own. By now you'll all have heard about BIG Data.

To make highly informed decisions quickly, business leaders need to be able to access and interpret data in real-time, or at the very least in a time-saving capacity. Information, and the ability to decipher and act on it swiftly, has become a competitive differentiator. Just ask Bankers, Brokers, Traders and Investment Managers. To identify new business opportunities ahead of the market, business leaders require the ability to access, evaluate, comprehend, and act on data faster and more effectively than ever before. The rapid emergence of data visualisation tools and techniques offer decision-makers and insight-seekers new approaches to dramatically improve their ability to grasp information hiding in their data.
On that basis, Surgery & Redcow have put together a small snapshot of the 5 primary reasons why data visualisation and infographics can help drive business.
The key advantage of using data visualisation is its ability to tell a story through data. 65% of senior marketing executives believe that visual assets (including infographics) are core to how their brand story is communicated (
Source
). In fact, infographics were the B2B content marketing tactic with the biggest increase from 2014 to 2015, up from 51% to 62% (
Source
), with content supported by relevant images getting 94% more views than content without relevant images (
Source
).

Engaging key decision-makers with data visualisation can also open up new ways of looking at business and operational data, enabling senior management to scale new heights in business performance while enabling a much broader audience of analytics users in the quest for greater performance. 
Consider, for example, the rapid rise of data visualisation within the publishing industry. It's not a new thing, but it is the acceptance of data and infographics from readers in the digital space that has spurned a new culture that consumes information in powerful ways beyond just the printed word, in effect commercialising the consumption of data in the process.
It's no surprise then that 39% of marketers believe that more of their budget should be allocated to the acquisition or creation of compelling visual assets (
Source
).
Researchers at the University of Pennsylvania School of Medicine have determined that the human retina can transmit data at roughly 10 million bits per second – about the same rate as an Ethernet connection
(Source)
. In fact, researchers have also found that coloured visuals increase people's willingness to read a piece of content by 80% (
Source
).  Also, when people hear information, they're likely to remember only 10% of that information three days later. However, if a relevant image is paired with that same information, people retained 65% of the information three days later (
Source
). And, eye-tracking studies have also shown that internet readers pay close attention to information-carrying images, and when the images are relevant, readers spend more time looking at the images than they do reading text on the page (
Source
).

It is surprising then that most business intelligence reports that are compiled for senior management and customers are typically populated with basic static tables and charts that fail to make information vivid for those who view it. 
By comparison, data visualisation and infographics enable the audience to receive vast amounts of information regarding operational and business conditions. Data visualisation allows decision-makers to see connections between multi-dimensional data sets, providing new ways to interpret data. Understanding how to visualise the data for customers will also mean you can benefit from it in commercial (monetary) terms.
The volume of data that companies are able to gather about customers and market conditions can provide business leaders with insights into new revenue and business opportunities, presuming they can spot the opportunities in the mountain of data. The key is to grasp shifts in customer behaviors and market conditions across multiple data sets much more quickly using data visualisation. 
For example, business leaders from a consumer goods company, such as Unilever, can use data visualisation to see that not only are customers spending more on its products as macro-economic conditions improve, but they are increasingly interested in purchasing ready-made foods.
A deeper dive into customer sentiment and other data could reveal an emerging opportunity for the company to launch a direct delivery service to customers who are entertaining more frequently and spending more across related food and beverage categories. Insights like this enable the company to act on this new business opportunity ahead of its rivals.
One of the greatest strengths of data visualisation is how it brings actionable insights to the surface. Unlike one-dimensional tables and charts that can only be viewed, interactive data visualisation tools enable users to interact with data in real-time.
For example, an Excel spreadsheet or a canned report can inform a regional business leader for a property investment company that its sales are down vs the market. However, the report may not inform them why sales in a certain area are down or whether certain assets are performing better than others. Moreover, the information in the report could be days or weeks old, skewing the accuracy of the data and current sales trends.
By using real-time data visualisation, such as interactive infographics and predictive analytics, they can view up-to-date sales figures and see why certain assets are underperforming and the reasons that sales are lagging – for example, discounts offered by competitors.
The leadership team can then determine the most effective actions to take based on the interactive analytical model. For example, they might launch a 10-day sales promotion for specific regional offices that are targeted at the most likely buyers with a price that undercuts the competition that still yields an acceptable profit margin.
Want to know more? Get in touch…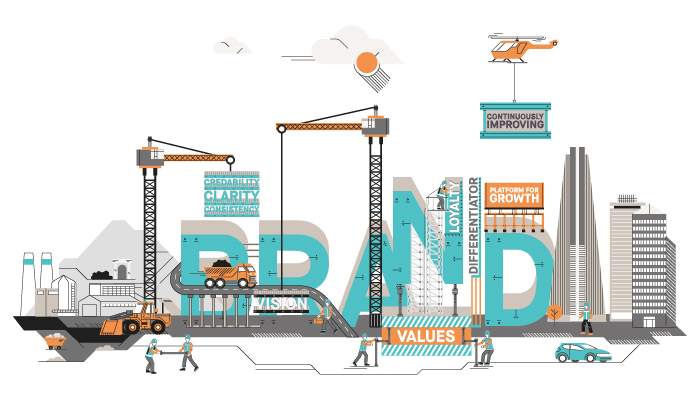 Brand Development & Repositioning
in a Highly Competitive Market


Successful businesses understand the advantage and opportunities that the right branding offers. This means moving beyond preconceptions about what branding really is, in order to realise the true value it delivers.
Let's start by dispelling a few common misconceptions...
Brand is just another word for a logo - and everyone knows who we are anyway! Right?
Your brand is far more than your logo – it's about the values of, and your vision for, your business. It's the personality of your business (people/products) and the promise that it makes, and then delivers, to your customers.
Your brand values will define what your business stands for and will inform your decision making on many levels; from defining your core business strategy, or recruiting staff with the right attitude and approach, to choosing the promotional methods that you use. Your brand reflects the way your business behaves and the way it portrays itself, your logo is just one of the ways your business makes itself visible.
Branding is just a bit fluffy, there's no real substance to it
It's true, brands appeal to people's emotions, and everyone will have an instant emotional reaction to your brand, but that's because the human brain is wired to react that way – and there's nothing 'fluffy' about that. Any brand that ignores the opportunity to help influence the impact of that instant reaction, is missing the opportunity to connect with their audience on an instinctive and very personal level. This is where trust and loyalty are built. 
Brands are only for consumer products… 
Traditionally, yes, brands are often just associated with consumer products, but the service provision aspect of a brand is just as important. With a product you have tangible benefits to sell, but with a service there is nothing to see, taste or touch. Often, your intended audience can only make a judgment about your service after they have agreed to buy; meaning that you have to establish a level of trust and confidence prior to purchase, which is much easier with a brand based on strong values that invites people to share their experiences as it grows. After all, without people interacting / buying your brand, it doesn't really exist! 
Now let's look at the true value a brand delivers…
Six benefits of branding:
1. 

It acts as an influencer of choice: 
By pressing the emotional buttons that appeal to your target audience, a strong, recognisable brand will act as a 'short cut' in their decision-making process. Instead of considering alternatives or meticulously comparing options where there is no clear point of difference, your audience can instantly select your brand (product/company) – because they get a strong sense of what it stands for. 
2.

It helps create loyalty and advocacy:
Successful brands go beyond simply making promises, to deliver tangible benefits. Important as these are in your marketing, a brand will go one step further to create an emotional bond and a recognisable face in the absence of a person to explain what they do/ stand for. Why not visit
www.lovemarks.com
to see just how enthusiastic people can become about their favourite brands. And then, imagine them sharing their passion about your brand and the relationship they have with it. 
3.

It enables you to command a price premium:
A long-established truism in marketing is that, in any market, only one brand can be the cheapest. Every other brand must find a way to differentiate themselves from the rest, so they can substantiate their price premium. A strong brand will help achieve this, and do so in ways that will encourage your customers to pay for the benefits they get from associating themselves with a brand that helps them deliver against their business/personal goals. The focus of the brand communication then shifts from cost to value (including the investment opportunity). 
4.

 It's a vital differentiator, especially where the basic product or service is widely offered: 
Finding and maintaining your point-of-difference from your competition is not easy, particularly if you focus solely on tangible benefits that can be easily copied. The fact that a brand is often based on emotional, intangible benefits does mean you need to take care in managing all aspects of the brand to ensure consistency. This includes everything from your assets and collateral through to setting guidelines and choosing solid guardians to police the brand. It also means that those facets of your business are much harder for your competitors to replicate 
5. 

It provides a platform for growth:
A strong brand will act as a launch pad whenever you expand your business operations, which is a strong consideration for any company with a strong growth pipeline. Recognition of what a brand stands for can be transferred to new products and new markets much more easily than starting from scratch with each new development or missing the mark in the first instance.   
6. 

It provides a framework to integrate all the ways you present your business: 
It's vital to avoid 'brand creep' – many companies experience this every time they produce a new brochure, order some new branded material or create a brand presentation. Their logo stretches slightly, the colours alter a little and the imagery they use becomes that bit more out of kilter and the positioning, language and tone-of-voice change. Before they know it, all semblance of consistency has disappeared. A clear set of guidelines will prevent these problems and enable you to present a consistent and confident face to the world.
A brand has to be nurtured. It takes time, thought and consistent application.
But it does not have to take big budgets. It is a mindset that requires both discipline and passion. It's about caring for the big picture and the small detail. When managing your brand, keep the three C's top-of-mind. 
A brand has been described as "everything you say and everything you do." A credible brand will always align the way a business behaves with the way it is portrayed, as a sum of the parts. This close connection will ensure that your audience's instinctive reaction is one of trust and belief in your brand, not doubt and uncertainty.
A strong brand is based on clearly defined values that are important to your audience and that differentiate you from your competitors. A clear understanding of these values throughout your business will ensure that they are communicated clearly through "everything you say and everything you do."
The value of a brand comes through recognition; and recognition comes from consistent application of every visible manifestation of your brand, at every 'touch point' that your audience experience. 
5 Key Stages of the Brand Process
As we see it, brand creation and brand re-development is typically a 5 Stage process to support your key business goals, designed to position and differentiate your brand and company to win in a highly competitive marketplace.
The Surgery & Redcow process has been specifically tailored to dovetail with the foundational work on your brand that has gone before. It encompasses all of the existing assets from within the physical and digital space, with the aim of consolidating and improving the overall brand aesthetic and offering. If it's a new brand, we start with a ground up build. 
We believe in close partnerships with our clients, and our goal is to help you best reach and facilitate interaction with your core target audiences in the spaces you own, and those you don't! 
STAGE 1 - AUDIT: 
Exploration, discovery & recommendation 
STAGE 2 - RESEARCH:
Testing, validation & value setting 
STAGE 3 - CONCEPT DEVELOPMENT:
Brand identity and proposition & content thought-starters 
STAGE 4 – SOLID FOUNDATIONS: 
Guideline setting for brand identity and key assets 
STAGE 5 - ROLL-OUT & MEASUREMENT: 
Internal & external communication platforms/pieces
Plus, measurement of  the impact 
Want to find out more or have an initial chat?